Breeding good bird dogs is an art requiring vision and knowledge as well as a little good luck. Anyone can breed a litter but few do it well. Piney Run Kennel strives to do it well. Our pups come from field trial lines and we average one to two litters a year. We try to keep at least one to two pups from each litter to start in training so we have hands-on knowledge of the pups we are producing.
Most of our litters go back three, four or five generations to dogs we have raised and trained.
Some of our dogs have won or placed in all-age championships including Brittany National Open and National Amateur Championships.
Some have won gun dog Championships including the 2016 AKC Pointing Breed Gun Dog Championship.
Some have placements in the Brittany National Open and Amateur Gun Dog Championships.
One dog won the prestigious 2018 and 2019 Purina All Age Brittany Dog of the Year Award.
Others have made great hunting dogs for serious bird hunters and plantations.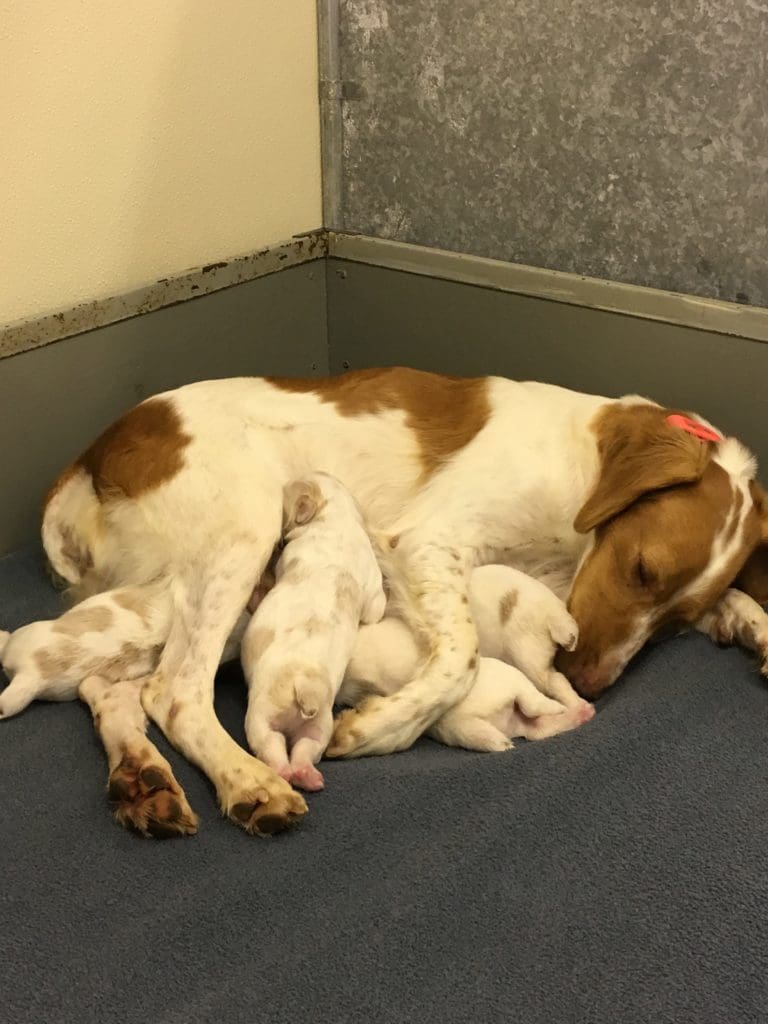 Piney Run litters go through our Puppy Development Program. We believe our program gives our pups a head-start as future bird dogs.
Begin Bio-Sensor exercises Day 3. Pups are gently handled through a series of short daily exercises through Day 16. These exercises aid in brain development.
During the next two weeks, eyes and ears open as pups begin socializing with each other.
Around four weeks pups are removed from the whelping box daily to play with toys in the puppy room. They are getting their teeth and ready to eat a mush made from the same food the momma dog eats.
At six weeks pups are vet checked and moved to the big dog room with indoor/outdoor kennels. Momma dog visits them twice a day as the weaning process begins and she no longer stays with them at night.
As pups become confident running in the kennel yard, a dead quail and then a dead pigeon are introduced.
At seven weeks clicker training begins.
Up until now pups have been daredevils without caution but during the eighth week, they go through a fear period that lasts about a week where their brains tell them to be caution. We continue clicker training as well as low stress activities.
By nine weeks most pups are back to being bold but with a bit more caution. Around this time, we introduce pups to the stake-out chain in the kennel yard. Initially most will fight it but they quickly settle down as they learn to give to pressure. The stake-out chain is a great training tool that teaches pups to give to the leash. Also, pup receive their 9 weeks vaccinations and are ready for short walks to the pond.
Generally, our pups are ready to go to new homes somewhere between ten and twelve weeks old.
Piney Run pups are currently $1,400 with a $100 deposit required. The deposit is refundable until pups are on the ground or if the female whelps and we don't have a pup for you. Our litters are AKC and FDSB (UKC) registered and some are Futurity nominated. Health and OFA are guaranteed and covered in our Guarantees. Please click here to read our guarantees. If your pup needs to be shipped, we will work with you to find the best way to transport your pup. You will be responsible for a health certificate and airline crate but we will work hard to keep your expenses down.
For information on specific litters, please contact Martha at mhgreenlee@gmail.com or text/call her at 434-774-8204.