The Little Company
For information on current litters and started dogs, please click on The Little Company FACEBOOK button below.
Wouldn't it be great if you could buy a Brittany pup, place the pup with a trainer and end up with a dog that wins Championships? Unfortunately, finding a potential Champion this way is like playing the lottery. But what happens if you bring together a seasoned breeder with a proven puppy development program, a Hall of Fame field trialer with a Nebraska summer camp, another field trailer with 40 years of experience breeding, handling, judging and owning multiple National Champions and a universally respected bird dog trainer who knows what works at the highest levels of the sport? We are proud to announce the Little Company.
Over the years, Martha Greenlee, Kent Patterson, Art Cohen and Ben Lorenson have teamed up to produce Brittany Hall of Fame inductees, Purina All Age Dog of the year winners, National Champions and Field Champions. We are excited about a more formal collaboration seeking to produce quality young dogs that have been purposely bred, critically evaluated and diligently developed. As an example, Martha breeds a litter in collaboration with the Little Company members and these pups go through her innovative puppy development program. Pups are identified for summer camp where Kent evaluates their potential on wild birds and the expanse of the Nebraska Sandhills. Art's counsel is sought    continuously throughout the process. Pups exhibiting the qualities necessary to perform at the highest levels of the sport continue on to Ben Lorenson for final evaluation.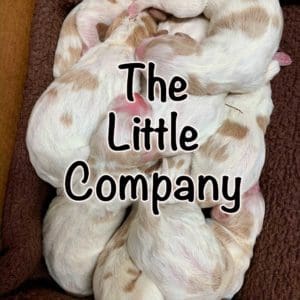 This type of collaboration is not unique in the bird dog world and has been done successfully in pointer ranks for decades. Instead of one person developing a young dog, there are multiple like-minded people working and evaluating these dogs based on each of his or her areas of expertise. As these young dogs progress through the program, some will become available as promising field trial, hunting and plantation prospects. Those making it all the way through the program are considered to have the potential to compete at the Championship level.
We hope to have some exciting prospects in the pipeline in the next few years. We are looking for the right genetics, the right owners, at the right time. We'll chose young dogs that have great bird finding ability, are front running with a desire to please and want to be team players. As Kent likes to say, "Dogs that know how to flow and show." We will give these dogs the very best opportunities to develop their natural born abilities to be great bird dogs.
Please click on The Little Company Facebook button at the top of the page to view our current litters as well as individual pups that are available. Each litter is handled differently. Some litters will have pups available at 12 weeks old, often due to demand. Other litters won't have pups available until older. These litters are often repeat breedings. For more information or questions, please email Martha at mhgreenlee@gmail.com.